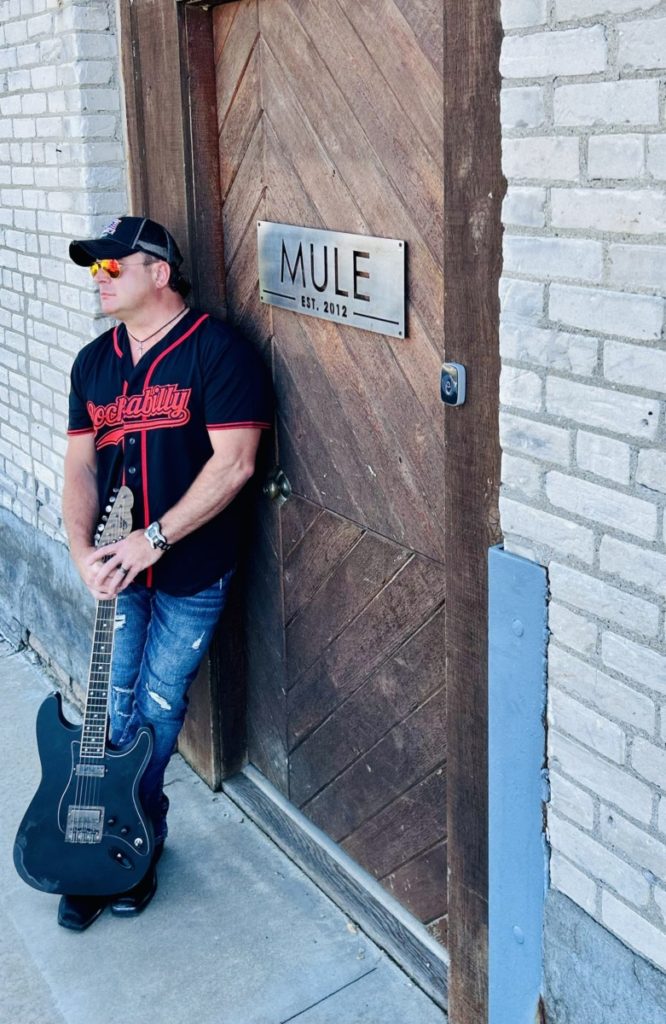 From its early champions to its most successful artists, Rockabilly and country music have made their presence known throughout the decades and continue to pave the way for new artists breaking the mold.
With Brendon Mac's confident voice and winning stage presence, this seasoned artist is fusing these elements and becoming the next artist whose inevitable rise is already attracting the ears of country fans and beyond.
Growing up in The Great Lake State, music was always a part of Brendon's childhood, outside and inside the home. He began to dabble in music when he was five years old when his grandfather took him to The Alpena Lumberman's Chorus (Barbershop practice) and he heard his mother sing in church every week. "My mother was the main reason I started singing and the inspiration to pursue this as a career," said Brendon. "She had such a beautiful voice, and everyone loved her. If I can be half the person that she was, then I will be pretty darn successful in all that I do in life." When he wasn't out hearing music, he was home listening to the huge vinyl collection his parents had, spinning songs from the likes of Patsy Cline, Johnny Cash, Charlie Pride, Freddy Fender, and Ernest Tubb. This was where Brendon quickly learned to emulate certain nuances. It was clear right away that he possessed a special talent, as his mother always referred to him as her 'musical child.' Brendon learned to play the banjo, and proceeded to sing more around the house, as well as in church and talent shows as a youngster.

Upon attending Lutheran Prep School, Brendon was immersed in the music culture. It was here where he sang in the concert choir and was even nicknamed "MAC the Master Pitch Man," the one who was able to give the pitch before each song. He later moved on to sing in a Johnny Cash cover band "Counterfeit Cash" in Colorado in 2011, which dissolved due to band members obligations, but that didn't stop Brendon from continuing to follow his dream.

Though music is his true passion, Brendon's other interests include hunting and being a woodsman. "It was my father who taught me how to hunt and to appreciate the outdoors, and this is something I am immensely proud of to this day. My Dad was someone who everyone respected and loved in the community." Brendon simply loves everything outdoors. He is a big sports fan and an avid archer. When asked what his spirit animal is, "Hands down, the Wolverine. I have a big heart. I fear nothing in this world." When he is not in Nashville recording and working on his music or being adventurous outdoors, Brendon enjoys time with his family which includes his wife Linda, daughter Carol who attends college in northern Colorado, and stepson Chris who serves in the United States Air Force. Brendon and Linda have four pups Bella, Precious, Ember and Tallula.
Brendon has teamed up with renowned producer Gary Carter who not only has worked as music director for one of country music's top female artists, Faith Hill, he has also been instrumental in helping the talents of the late Jeff Carson and Daryle Singletary, as well as Kenny Chesney, Alan Jackson, Pam Tillis, Wade Hayes, Rhett Akins, Randy Travis, Marty Stuart, and Connie Smith. "Gary has been a great friend and inspiration to me since we met. He was the first one in Nashville to believe in me and I would not be where I am at today without his time, talents and friendship." Brendon has also worked with an all-star musician lineup at East Iris Studios including Kenny Vaughan, Danny Parks, Chris Scruggs, Chad Cromwell, and Mike Rojas. "It takes a true team to bring music to life. I'm honored to have worked with them." With his new approach to a country rockabilly classic, Brendon's February 2023 release of "Ring of Fire" has been heard in 165 countries, with over a million spins on Spotify within 115 days of the song's release. This year marks the 60th Anniversary of this hit song as recorded by Johnny Cash, and with this new version Brendon Mac is attracting fans from all over the world. "Johnny Cash is my country music idol and main musical influence. I wanted to honor him with this and portray that country music is still country music."
Brendon Mac's November 2023 "Rock This Town" release offers a new twist on an old favorite. "Rock This Town" is packed full of energy, with rich vocals and rocking instrumentals, bringing a new and younger audience to appreciate the Rockabilly genre while paying homage to the classic Rockabilly artists of years past.

To this day, Brendon lists Johnny Cash amongst his biggest influences, along with the likes of Elvis, Carl Perkins, Carlene Carter, Marty Stuart and Brian Setzer from the Stray Cats. These artists, like all his favorites, released music with a strong message while still leaving listeners feeling happy. Brendon strives to bring this same joy to others by way of his original music. "All of my originals come from the heart. My inspiration comes from years of trials and tribulations on this earth. My wish is that my music makes an impact on someone's life. If I can take someone to a special place or time for 2 minutes in a song or 2 hours on stage, then I have done my job. Mission complete." With dreams of playing big venues and performing on the Grand Ole Opry, one thing is certain. Brendon Mac has big plans, and based on what we've already seen, that future has even greater plans for him.